Dr. Stone, Vol. 17
Regular price
$0.00
Sale price
$9.99
Unit price
per
Sale
Sold out
One fateful day, all of humanity turned to stone. Many millennia later, Taiju frees himself from the petrification and finds himself surrounded by statues. The situation looks grim—until he runs into his science-loving friend Senku! Together they plan to restart civilization with the power of science!
The Kingdom of Science is off on a high-seas voyage to the U.S.A. However, Senku and Ryusui are soon divided on how best to chart their course, leading to all-out war—in the form of a poker game! After the winner is determined, what awaits their crew on the large continent to the east?!
DETAILS:
Publisher: Viz
Media: Manga
Format: Paperback
Author: 

Riichiro Inagaki

Pages: 192
Release Date: 07/06/2021
Share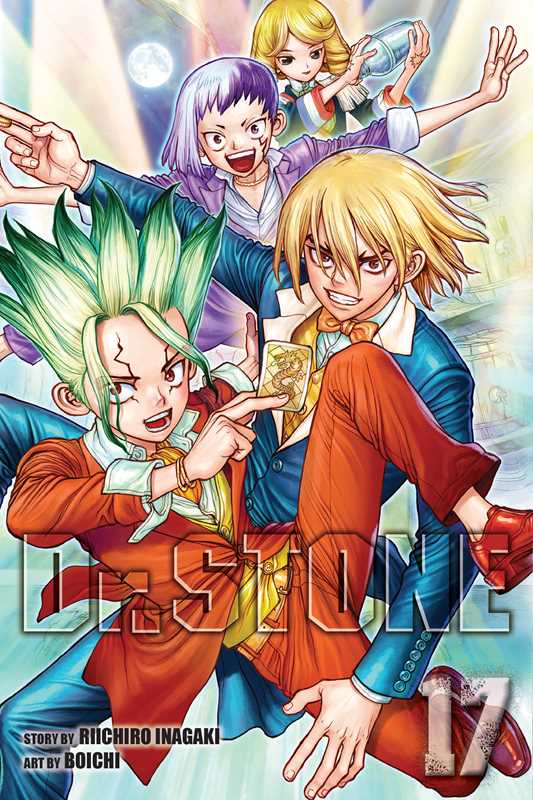 The Eternity Collectibles Difference
U.S. Based Small Business

We focus on providing a quality, memorable, and convenient experience for our customers. To do so in a timely and manageable manner, we restrict our products and services to U.S. domestic sales only at this time. Great care is put into fufilling our orders expeditiously and safely to ensure you enjoy your investment quickly and with great satisfaction!
"Air Tight" Packaging

We strongly believe that every single product, regardless of how big or small, should be packaged with the utmost care. We take care to ensure your products are protected from both the elements and common incidents associated with shipping fragile goods. Our motto when packing is, "If you can hear it move, it's not good enough.". We like to pack our products "air tight" so you can enjoy your investment in one piece! No pun intended!
Quality Selection

We hand pick select products we sell based on that brand's quality reputation, customer recommendations, and anime popularity. This will shorten the time you spend scrolling endlessly through tons of products you have no interest in or don't meet our quality standards. We only want the best for our customers.
30 Day Return Policy

Feel confident with your purchase! We offer a 30 day return period. For full info, please see our Refund Policy.